If you've been on any of the local Facebook mom groups for any amount of time you have likely at least seen the word "haakaa". Most, if not all, moms who have used it love it. It's a game changer. But have you heard of Milkies Milk Saver? Probably not. And they may be the unsung hero of nursing you are looking for. In this blog I'm going to give a breakdown of the haakaa vs Milkies so you can decide which is right for you.
Haakaa vs Milkies Milk Saver
While this may not be the most exciting of parenting topic debates, it may be one of the more useful ones. Lets look at the pros and cons of each of these options (as well as the different options of each that are available). Both are affordable, silicone, and dishwasher safe (all MAJOR pluses!).
If you're looking to build a small milk stash with minimal effort, you will absolutely want to invest in one of these products. Which you choose will depend on several factors including:
how much you leak.
if you also want the option to use it as a pump.
how discrete you want/need to be.
The Haakaa
There are knockoff versions available, but with their basic model starting at around $12 on Amazon, personally, I would go with the "name brand". Their basic model has a flat bottom and no stopper. No doubt it gets the job done! But some moms prefer the "upgraded" options they have available:
Some of the features of the Haakaa that I like include:
the capacity (150mL – 5.4oz).
it can double as a manual pump (for both routine and "emergency" use).
the gentle suction it provides can help relieve engorgement without bringing out the electric pump.
some models have stoppers or suction bottoms.
that it requires no assembly!
A few drawbacks may include:
a learning curve to get the haakaa to attach properly to your breast.
positioning the haakaa and holding your baby to nurse.

Some moms will opt for a football-hold to prevent baby possibly kicking the haakaa, others do not report having difficulty nursing while using the haakaa.
Milkies Milk Saver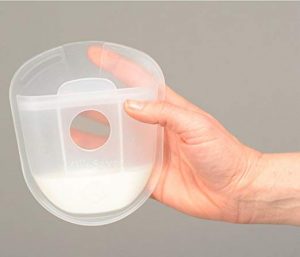 The Milkies Milk Saver is a bit more discrete than the Haakaa. It does not suction on to your breast and is held in place by your bra. Unlike with the Haakaa there is no learning curve – just make sure your nipple is in the opening and you're good to go! Unfortunately the Milkies only hold 60mL (2.1oz) of breast milk, but you do get two in a set, so total you can collect the same amount. The storage case doubles as a stand for your full bag, but these do not have the option of a stopper for the nipple hole.
Which is better?
Honestly, I think they are both great products. It really comes down to your personal preference and what you intend to use it for (if you plan to use one as a back-up manual pump you would have to get the Haakaa). Both of these products do their job well. My advice? do a little more research into both products and ask your friends with babies which they use and love. You can also ask in our Facebook group! Either way you can't go wrong.
Other Blogs You May Like
Can I Give My Baby Formula with Breast Milk?
Boost Your Milk Supply: A CLCs Take on Galactogogues
Breast Milk and Alcohol – What Every Breastfeeding Mom Needs to Know