Placenta encapsulation turns your placenta into a powerful supplement that can ease your postpartum recovery. Women who have had their placenta encapsulated have reported benefits that include: increased energy, a more robust milk supply, a decrease in postpartum depression, and a faster recovery.*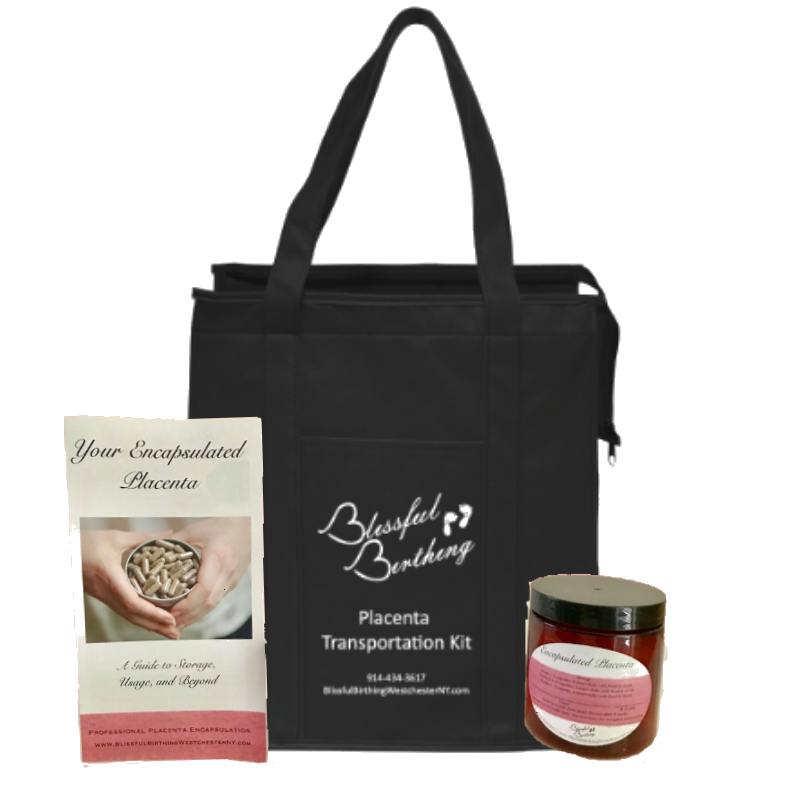 Placenta Encapsulation – $400
Placenta Tincture & Print – $30
Placenta encapsulation may be reimbursable through your health insurance's flex spending or health savings account.
"Rebecca responded very quickly to messages and answered all of my questions. The process of Blissful Birthing encapsulating my placenta was done in my home and was quick and easy. I would definitely recommend this service to anyone."
Lisa DeMaria
Placenta Encapsulation
Yorktown Heights, NY
Blissful Birthing is proud to offer in-your-home placenta encapsulation as a stand-alone service, or as an add-on to labor or postpartum support. Our placenta encapsulators work in your home so you can be confident the placenta you will be consuming is your own.
You will be provided with a transportation kit and instructions to safely transport your placenta home and store it until it can be encapsulated. We make every effort to begin processing your placenta within 24 hours of delivery.
Your placenta specialist will bring everything she needs to process and encapsulate your placenta. You are welcome to watch the encapsulation process; we love explaining what we are doing! You can also read more about how we process your placenta here.
There is no guarantee as to how many capsules your placenta will yield, but most women can expect between 50 and 200 capsules, depending on the size of the placenta. Our client's placentas have yielded an average of 102 capsules.
---
PLEASE NOTE: Encapsulation contracts signed after the 36 week mark will incur a rush fee of $50 to ensure you receive your transport kit in time. Unfortunately we are unable to accept clients for placenta encapsulation after week 38 of pregnancy.
---
Request Information About Placenta Encapsulation
"Rebecca encapsulated my placenta in my home and the entire process was quick and easy. It is so nice to have a resource like Blissful Birthing close to me."
Crystal Levine
Somers, NY
* PLEASE NOTE: This service has not been evaluated by the FDA. The services offered are not clinical, pharmaceutical, or intended to diagnose or treat any condition. Clients who choose to utilize these services take full responsibility for their own health and for researching and using placenta capsules.
A 2.9% processing fee will be assessed to invoices paid via FSA, HSA, credit, or debit card.