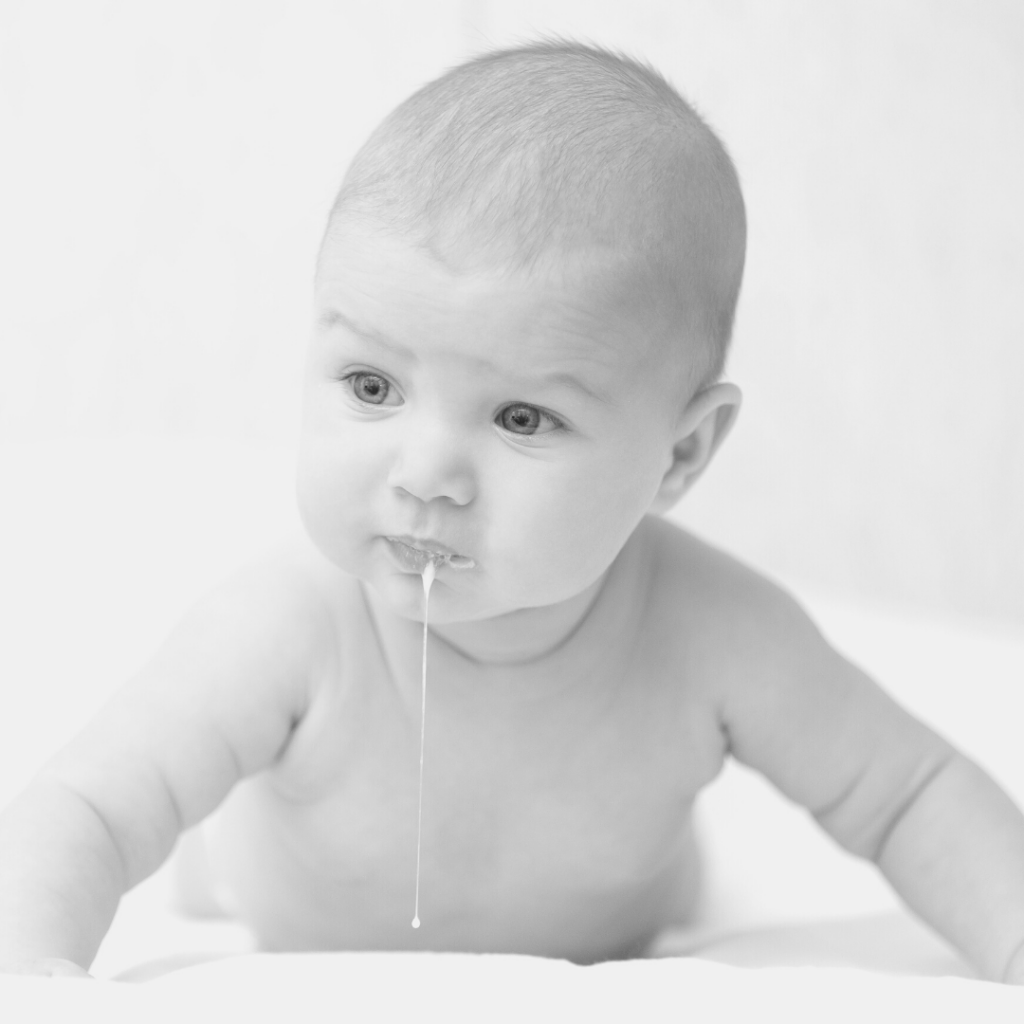 Spit happens! Even people who have not spent much time with babies know that spit up comes with the territory. But did you know that more than 2/3 of babies spit up regularly? More often than not, spit up is nothing to worry about. There are some tried-and-true methods out there that help reduce the frequency of spit up in babies. There are also some very common misconceptions. And, contrary to popular belief, holding your baby upright after a feeding doesn't help. In this blog we will discuss:
why babies spit up.
the difference between spit up and vomit.
when to worry about spit up.
why holding your baby upright after a feed is not necessary.
myths and truths to reducing spit up.
Why do babies spit up?
Spitting up is physiologically appropriate in babies. This is because the lower esophageal sphincter (LES) has not fully matured – and doesn't until around 18 months of age. You can, however, expect to see a decrease in spit up as baby gains core control (ie when they begin sitting up). The floppiness of this sphincter is why you may notice your baby spitting up over an hour after they've finished feeding.
Your baby may also spit up if they have had too much to drink and their stomach is full. The excess fluid can put additional pressure on the LES, leading to spit up. You can compare that to feeling 'uncomfortably full' after a holiday meal. However, you don't spit up your food because your LES is fully matured.
What is the difference between spit up and vomit?
Spit up and vomit are not the same. The distinction between the two has nothing to do with the volume of fluid that is ejected. Spit up tends to leave your baby's mouth at a slower speed; it may even dribble out. This can happen when you're burping your baby. Vomiting is a forceful event. The liquid projects out from the mouth and may travel several inches.
When should I worry?
Every baby is different. Keep in mind, it may appear that your baby has spit up an 'entire feed' but the amount of spit up usually looks like more than it actually is.
Typically if your baby is continuing to gain weight and doesn't seem bothered by spitting up, it is not a reason to worry. These babies are often dubbed "happy spitters" and the spitting up is more of a "laundry problem" than a medical one.
If you feel your baby is spitting up excessively, I definitely recommend calling their pediatrician. Other scenarios which may be a cause for concern include:
when it occurs after every feeding.
if your baby is not gaining weight.
if the spit up looks like anything other than milk/formula (undigested or partially digested). This includes spit up that is green, yellow, bloody, or looks like coffee grounds.
a baby who cries for more than 3 hours daily and is irritable.
if spitting up begins after your baby turns 6 months old.
Why isn't holding your baby upright after a feeding necessary?
I realize this idea may be different than what you've heard in the past, but hear me out. It takes approximately 2 hours for your baby's stomach to empty. While holding your baby upright for 30 minutes after a feeding may allow for some of the feed to leave the stomach, the majority of the feed remains in their stomach after that time. When you lay your baby down, their immature LES could still open, causing them to spit up.
So unless you are holding your baby upright until their stomach is completely empty, the chance of them spitting up still remains. Now if you were to hold them up until their stomach emptied, you would bring yourself to the time of their next feeding. This strategy would be grossly inefficient. It would result in you getting no rest, or your baby getting into the habit of having to be held or worn at all times.
You may wonder about propping your baby up to reduce spit up. It is unsafe for a baby's sleep surface to be elevated (that means those crib wedges are not a safe option). Products like nursing pillows, baby loungers, and bouncy seats put your baby at risk for positional asphyxiation. And they don't diminish the incidence of spit up!
Myths and Truths to Reduce Spit Up
Many pediatricians will, wrongfully, recommend switching to formula because it is "heavier" than breastmilk. The heaviness only means it takes longer to digest than breastmilk, not that it will be less likely to come back up. And adding rice or oatmeal cereal to the bottle will not help reduce spit up either (but it can create a choking hazard!).
The best ways to help reduce spit up in your baby include:
avoiding overfeeding.
burp your baby, well, during and after feeding. Trapped air in the stomach can increase the incidence of spit up.
avoid rigorous activity soon after a feed.
if you're bottle feeding your baby, opt for a slower flow nipple. This helps baby to recognize when they are full before they become overly full.
Other Blogs You May Like
What is the Best Bottle?
Does Breast Milk Cause Cavities?
Pass the Bottle, Please!
The information contained in this blog is the opinion of Rebecca Tucci, certified doula and lactation counselor. It is not meant to take the place of consultation with your child's healthcare provider. The above information cannot diagnose, treat, cure, or prevent any disease or condition.