Humans began practicing yoga approximately 5,000 years ago! I'm sure it comes as no surprise to you that it can be beneficial during all seasons of life. There are yoga classes for individuals of all ages and ability levels and most poses can be modified, if needed. The best types of classes to take when you are pregnant are: prenatal, Hatha, and Restorative. Today we will discuss some of the benefits of yoga during pregnancy.
Benefits and Cautions of Prenatal Yoga
The benefits of yoga do not change just because you're pregnant! Many women who practice prenatal yoga report improvements in sleep and a decreased stress levels. Additionally, it can:
prevent complications*
decrease low back pain
help with carpal tunnel syndrome symptoms
reduce headaches and nausea
help you learn to focus on breathing
improve strength
increase flexibility and stamina
What women love most about prenatal yoga is the sense of community and support they feel from regular attendance.
Things to remember:
Before beginning any prenatal exercise routine, speak with your medical provider.
Make sure to inform your instructor that you are pregnant if the class you are taking is not geared towards the prenatal period.
Avoid Bikram (hot) yoga while pregnant as it can cause too much of an increase in body temperature.
Stay hydrated during and after class.
Avoid positions that put you on your back after the first trimester as they can restrict blood flow to your uterus.
Do not push yourself.
Use props as needed
Local Studios
I spoke with owners of two studios within our service area to learn about their practices.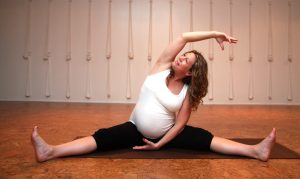 "Prenatal yoga is not your generic yoga class. Women sometimes enter into class as a new yogi, and other times as a seasoned practitioner. All are welcome as they learn how to dive deep into their own physical, emotional and spiritual experience during class. As they move their bodies, and develop their breathing, they create strength and flexibility. Most importantly the class' focus is on cultivating the ability to stay in tune with themselves and connect with their baby. Learning to "listen" prepares them for their journey through labor and delivery and beyond. Class also includes an educational component as they practice options for movement and relaxation during the process, to enhance the bodies innate ability to birth. Women are empowered, learn about their bodies and are welcomed into the larger community of pregnant women for support, new relationships and resources." -Betsy Kase, Owner, Yoga Haven
"Yoga can help practitioners in so many ways during their pregnancy. The practice of yoga, at its core involves the union of mind and body. A strong prenatal practice can help an expecting mother to become more attuned to her body and baby. Yoga frequently includes deep and relaxing stretches that are specifically chosen to both alleviate aches and pains associated with pregnancy AND to strengthen and prepare mothers for pregnancy, labor and delivery, and beyond. Poses can be chosen to develop balance, strengthen the muscles of the pelvic floor, open hips, and much more. Additionally, breath practice, or pranayama, is a tool that can help mothers remain calm and focused. Finally, it is nice to have a space to celebrate your pregnancy and meet other expectant mothers!" -Susannah Grange, Director, Hudson River Yoga
More in this Series
Z is for ZZZ
Floating During Pregnancy
Acupuncture and Pregnancy
Additional Reading
*The effects of yoga in prevention of pregnancy complications in high-risk pregnancies: A randomized controlled trial
Mayo Clinic
This blog is for informational purposes only. It cannot take the place of consultation with your healthcare professional.