About a year and a half ago, Rise Above Floatation opened in Mount Kisco, making it the first and only floating center in Westchester county.  Floating is still a new concept to many, so I spoke with Micah Saccomanno, owner of Rise Above, to learn more about the benefits of floating during pregnancy.
What is floatation therapy?
Floatation therapy, or "floating," is just what it sounds like – you are floating in a tub of salt water.  The tanks deprive you of external stimuli (such as touch, light, and sound).  They are approximately 8′ by 4′ by 10″ deep and contain salt water that is skin-receptor neutral (approximately 98.3°F).  The content of Epsom salts in the water makes it twice as buoyant as the Dead Sea!
What are the benefits of floating?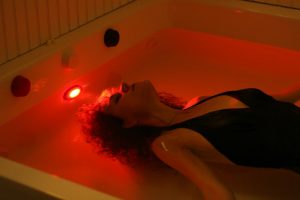 The buoyancy of the water essentially puts you in a zero-gravity environment.  This allows for relaxation of your muscles and joints, and decompression of your spine.  The lack of external stimuli allows your body to fully relax.  The body's relaxation response is activated resulting in lower levels of stress hormones.  The body is able to increase its production of dopamine and endorphins.  This may help to promote mental clarity, alertness, pain relief, and improved sleep.
How can floating benefit an expecting mother?
During pregnancy, it is important to properly manage stress so the release of stress-related hormones is at a minimum.  Floating allows the woman to "turn off" the outside noise and focus on herself and her baby.  As pregnancy progresses, many women find the buoyancy of the float tank helpful in relieving strain on their joints, muscles and ligaments.  Some women report higher energy levels after floating – perfect for conquering crib assembly!
What can I expect when I come to float?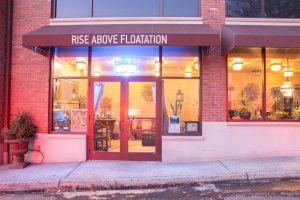 When you arrive at Rise Above Floatation, you will immediately feel relaxed and welcomed by the staff.  Your host will walk you to your float room (there are 3 rooms, each with a different kind of float tank) and explain the process to you.  You will then use the restroom, shower (each of the float rooms has their own), and begin floating!  You are in control of your floating experience – you can turn the lights off or leave them on, listen to music or float in silence.  Rise Above has everything you need (soap, shampoo, conditioner, towels) so you can go as you are.  After your float, you will take another shower to wash off the Epsom salt, and then relax in their lobby for as long as you would like. Complementary post-float snacks and beverages are available.
Rise Above Floatation is located in the heart of Mount Kisco, NY, in the same building as The Elephant's Trunk.  There is off-street parking, adding to the stress-free experience.  Walk-ins are welcome, but if you have a preference for which room you would like, it is best to make a reservation.  Rise Above Floatation also offers massage and light therapy, by appointment.
Want to read more about floating during pregnancy?  Check out Rise Above Floatation's blog post.
Have you experienced the benefits of floating?  Share your experiences with us!
The information contained in this blog post is for informational purposes, only.  The statements on floating have not been evaluated by the FDA and floatation therapy is not meant to diagnose, treat, cure, or prevent any disease.