There are SO many products on the market geared towards breastfeeding moms. It can be super overwhelming to decide what you need to get – do you need it all? Do you need any of it? How many of each item do you really need? Let's start with a little logic, shall we? As a species we have been breastfeeding since the beginning without all the modern accouterments. So, do we need it? Eh. That's the part where it gets sticky. I think it goes without saying that these products will not magically make you able to breastfeed without struggles. But, they will make your life a bit easier! Please do not feel like you need all of these products. Take a look at my suggestions. Ask your friends and family with babies or in our Facebook group. Go from there.
What breastfeeding products do I need?
Here are some of my absolute favorite products based on what I've seen with our clients.
Haakaa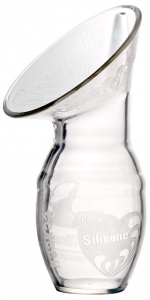 Oh. My. Gosh. I would never have thought that something so simple (and inexpensive!) could be so amazing. Everyone who I've spoken with who has used a haakaa raves about it. I am not going to say "you need to buy this. Now!" but, if there is one item from this list that you do buy, this would be it. It is, in my opinion, so helpful that I have begun to buy it whenever I'm invited to a baby shower.
So why is this little silicone device so amazing? The haakaa can be used to passively collect milk while you are breastfeeding. Because it is passive (it only applies a gentle suction) you can start using it right away without the worry of increasing your milk supply to the point of overproduction. It can also be used as a manual hand pump if you are in a pinch. Have a clogged duct? No problem! Fill the haakaa with 1/2 cup of warm water and a teaspoon of epsom salt and suction it on your breast for 10-15 minutes.
Want to buy your own? Click here. I linked the least expensive model, but there are multiple options available.
Milkies Milk-Saver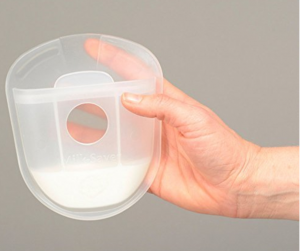 This is another great product for milk collection. I really like it for first time moms or for moms with babies who are particularly wiggly because it stays in your bra! You can either use the Milkies when you are nursing (to collect milk on the opposite side) or between feedings. There are a few things we think you should know before deciding if this product makes sense for you:
Because these are worn inside your bra, they are close to your body. You will want to make sure to empty the milk every hour or so and wash out the inside. This will prevent the milk from sitting out for too long.
You cannot bend at the waist when you are wearing these or you risk the milk leaking out the top. Bend at the knees and you will be fine!
These do not provide any suction so it is purely collecting what leaks out. It may not be much (or it might!) but it's better than losing the milk to a breast pad!
These can be found here.
Breastfeeding Pillow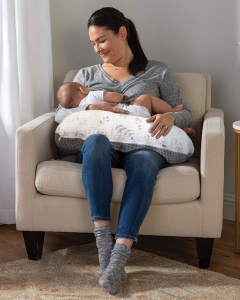 I am currently loving the Boppy Best Latch pillow. What's so great about this pillow, in my opinion, is that is has both soft and firm sides. You don't know what kind of support you are going to find most helpful when nursing and this pillow offers both (and as baby gets bigger you can flip it to the other side, if needed). It has a band that secures it around your waist so you don't have to worry about it shifting.
While we most often see breastfeeding pillows used in a position like the accompanying photo, they can also be used when you are using the football hold. The only thing I would change about the set up shown is to add a breastfeeding stool. Two reasons:
A stool can help you get into a more comfortable position while nursing.
When your legs dangle after delivery it puts pressure on your pelvic floor leaving you more susceptible to hemorrhoids!
A Breast Pump
Because insurance covers personal breast pumps, you might as well take advantage! It is SO important to note that the breast pump you get from your insurance is for the use of one person only. The most popular options that our clients choose are:
Medela Pump in Style
Spectra S1 or S2

The only difference between the S1 and S2 is that the S1 offers you the option to go "wireless" as it can be charged. Some insurance plans will allow you to pay to upgrade from the S2 to the S1. If you have that option and the funds, I would recommend the upgrade.
"But it's closed system!" Nope. Per the FDA personal breast pumps are medical devices and are only safe for one person to use for the duration of nursing one pregnancy.
Closed System breast pumps are single user, only, even if you change the tubing and flanges. Closed system is not the same as multi-user. The breast pumps that hospitals rent out (most often the Medela Symphony) are designed to be used by multiple users.  I also want to stress that "hospital grade" is a phrase that is not regulated, so just because a company advertises that their pump is "hospital grade" does not mean it is recognized as safe for use by multiple people.
Can you tell that I'm passionate about this? Breast pump and car seat safety are my two "soap boxes". Here is some information I have on breast pumps and multiple users:
Bottles
So many to choose from! And while if you are exclusively feeding from the breast you don't have a need for bottles, at some point your baby may have to drink from a bottle. What should you look for (or avoid) when selecting a bottle? Here are my suggestions:
Look for bottles with the fewest parts to wash because you will be washing them a lot!

Playtex Drop-Ins are great because you only have to wash the nipple. Not a fan of the waste from the liners? They now make silicone sleeves which are also super simple to clean! There are also other brands that make drop-in style bottles that are only have reusable parts, like the Boon NURSH bottles.
Avent and Tommee Tippee have no innards making them easy to clean. Comotomo is a good option, too, but they are on the more expensive side.

Avoid bottles with many parts to clean or parts with small areas to get into. These can be difficult to properly clean. Not to mention it's more to fumble through assembling when you're sleep deprived!
What about cleaning your bottles and pump parts? Is it necessary to buy special soap? No, just look for soap that is free of dyes and fragrances (which is a good guide for adults, too). Here are some of my favorite bottle cleaning and storage products:
Bottle Brush

There are so many options available. This one by Munchkin has a sleek look and when it's time to replace, you just discard the head, rather than the whole brush.

Drying Rack

Again, so many options exist. But they usually take up SO much space! One of our clients had this drying rack by OXO Tot and I am obsessed with it and the minimal footprint it has.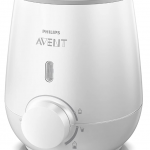 Let's not forget the bottle warmer! My favorite is this one from Philips Avent. It is affordable, easy to use, and can accommodate the vast majority of bottles!
Wondering when you should introduce bottles to avoid 'nipple confusion'? I think this blog is a good place to start. Spoiler Alert: I don't think nipple confusion is real.
Breast Milk Storage Accessories
Where to start! There are so many of these products out there that are awesome. But what I've noticed is that breast milk storage produces a lot of waste! Some of the products I will be posting are a bit more "green" and I personally think they're pretty awesome alternatives.
These milk storage trays are a great alternative to breast milk storage bags. They freeze milk in one ounce sticks. Once frozen you can pop them out and put them in a zip top bag (either reusable or disposable) in one-week increments with the date they were pumped. I personally love this option because it's less expensive than disposable bags. Another benefit is that you can defrost just as much milk as you will need. Getting ready for daycare or a night away from your baby? Pop a few of these sticks into the bottle and put it in the fridge to defrost. So easy. No waste. Winning all around.
Storage Bags – these are the most common way to store breast milk. There are so many brands that make these bags and at a variety of price points. My best advice: when pouring milk from the storage bag into a bottle, snip off the top corner of the bag (rather than opening the zip top) to pour the milk from. This reduces the likelihood of spilling milk.
Milkies Freeze – while it is not necessary to buy something to keep your milk organized, this is a pretty nifty gadget. But more important than this device is what it does (and you can easily and inexpensively replicate that!). It freezes milk bags FLAT resulting in them taking up less room when stored. Additionally it maintains a "first in, first out" rotation. How can you do this for cheap? A shoe box is one alternative. Get creative!
Keep in mind the current guidelines for breast milk storage whenever you aren't using milk immediately.
I hope you found this blog to be a helpful resource. Yes, these products are all amazing and can simplify your life as a nursing parent tremendously, but nothing replaces professional support. Our team of lactation counselors is ready to help (both in-person and virtually) if you have any questions about breastfeeding and weaning (because support when you're ready to stop is just as important!). Want more information on breastfeeding and weaning support offered by Blissful Birthing? Click here.
Other Blogs You May Find Helpful
I Want to Stop Pumping!
How to go Dairy Free when Breastfeeding
Can Beer Increase My Milk Supply?
This blog post contains affiliate links.